The on-chain activity on Shibarium's native testnet, Puppynet, is on the rise. According to data from puppyscan.shib.io, the testnet processed a total of 1,054,391 transactions. The same has been achieved with the help of over 202,130 unique wallets. As illustrated below, a large portion of the trades took place earlier this week. In fact, around March 28 alone 114.45k transactions have taken place.

Read also –Shiba Inu: the rise of memes to millions
Shiba Inu's milestone is a "remarkable" achievement
SynFutures CEO Rachel Lin commented on the latest achievement CoinDesk,
"Some might argue that the financial impact of the Shibarium upgrade has been disappointing. But in our opinion, the Puppynet beta testing network hit a major milestone of 200,000 wallets in just over a week, and while it still needs work, it's still considered noteworthy.
At this stage, it is interesting to note that the number of Shibarium intake applications is showing a significant increase. In a couple of weeks, more than 7,000 applications have been submitted, highlighting the increasing traction and interest that Shibarium has garnered from the community. Price-wise, Shiba Inu is consolidating horizontally on the daily time frame. The inadequate buying momentum and the state of the macro-crypto landscape have played a combined bummer.
The other two tokens belonging to the Shiba Inu ecosystem traded in a descending channel. The lower trendline acted as strong support for BONE and the asset remained within the range of the pattern. The situation of LEASH has also been quite similar lately.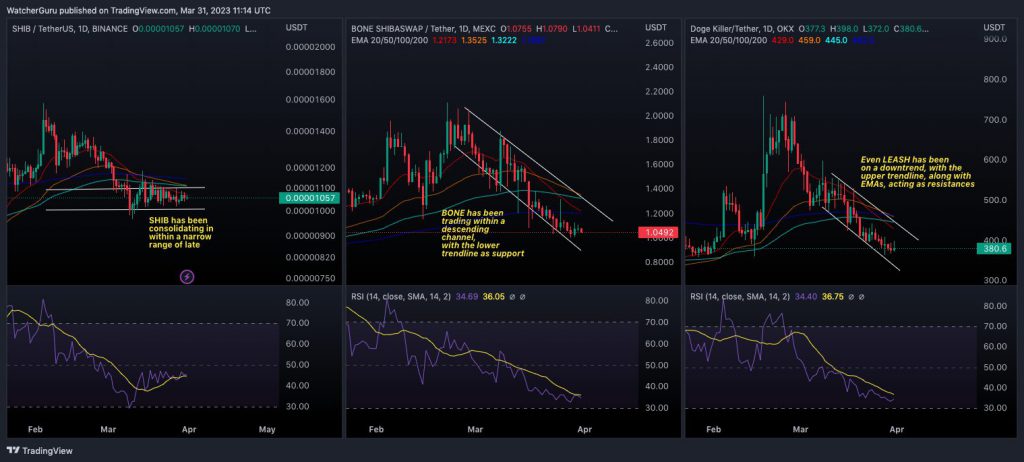 Read also – OG-Meme Asset 'GameStop' Outperforms Shiba Inu, Dogecoin in 2023
The latest developments, when clubbed with positive community sentiment and hype, should have a positive impact on asset prices. However, investors should be wary. Lin said,
"Unification, the company behind Shibarium, announced that it is working on an all-in-one wallet solution that will natively enable two-way asset transfers, staking/delegation, and will include a Shibaswap integration module. These developments suggest that the value of SHIB and Bone, the original token of the Shibarium network, could see a price spike in the near term, but given the current macroeconomic environment, such moves are likely to be short-lived."